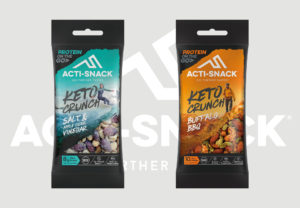 Acti-Snack: Engineered to Take Active People Further and Faster.
We all know that great nutrition supports an active lifestyle. Now a new range of snacks promises to help us go further and faster — with nutritionally tailored real foods.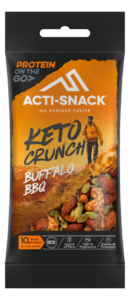 Whether we're hiking a long-distance trail, out on a road bike, or pushing ourselves in the gym, we all need the right nutritional support. But finding snacks that fit the bill isn't so easy —at least, if you want to eat real, natural foods.
That's why sports nutrition brand Acti-Snack has created a range of performance-supporting snacks which precisely balance combinations of natural foods. Their products are nutritionally tailored to specific needs, from high-energy trail mixes for endurance athletes to Keto mixes for those embracing low-carb diets. Their range is plant-based, gluten free and categorically avoids anything artificial. To optimise the nutritional profile, ingredients are baked rather than fried.
To create the snacks, Acti-Snack consulted with performance nutritionists and a range of different athletes. Their philosophy was to rule out bogus pseudo-scientific ingredients, focusing instead on providing nutrients proven to help active people reach their goals. For example, a healthy hit of protein was a must for supporting lean body mass. Magnesium and potassium are included too, helping to reduce muscle fatigue.
For many sports snacks, 'flavour fatigue' is a real problem. After all, none of the nutritional goodness matters if you can't face eating the product. So the Acti-Snack team worked hard to craft snacks that are first and foremost a great-tasting food. The positive feedback they're getting tells us they have succeeded!
We think Acti-Snack's products are a fantastic choice for anyone looking to push themselves further and faster — so we're currently including them in our popular gym box.
Try them out and let us know what you think!